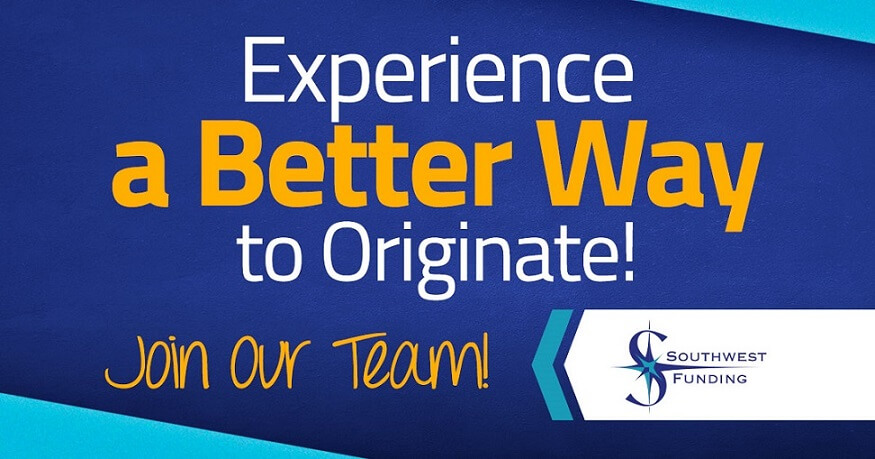 Mortgage Loan Professional positions available immediately!
Do you know a Mortgage Professional who may be ready to embrace a move for the better?
Do you know a Real Estate professional or their spouse/significant other looking to learn more about getting into the mortgage industry and want to learn how to get licensed to originate?
Now is the time! We are growing and looking for dynamic, hard working, positive minded new team members to join our team. Mortgage experience is not necessary if you are hungry to learn. Hands On training provided. Submit your resume to rfuentes@southwestfunding.com or fill out the contact form below and someone will contact you to schedule a phone interview. We look forward to hearing from you. 
This may be the perfect Mortgage Loan Officer position for you! (Must have TXSML licensing)

-Want more freedom?
-Want to work from home?
-Want to spend more time with your family?
-Have an established lead source and want to make more?
-Want more products to offer your referral partners?
-Want to close more loans?
-Looking for support, training, communication, service?

**We are looking for recently licensed individuals looking to get into the business and want an opportunity learn to originate not just be someone elses grunt as an assistant.
**We are looking for Mortgage Loan Officers with an established pipeline who want to make more with higher comps, more products and better service to close more loans on time or before contract dates.

Experience/no experience, telecommute or in office we will provide the proper training and direction required to be successful. Are you new to the business and looking for help getting started? Are you currently generating your own business but are not being given any support or have a low pay structure because you are new?

Make more in a highly progressive and relaxed atmosphere! If you are unhappy where you are at, what are you still doing there? Want common sense underwriting, not making what you should be making, not getting the support you should be getting, we want to talk to you.

Responsibilities:
- Input all borrower information into the Loan Officer Software provided
- Order and review client credit reports
- Structure loan based on borrower goals and provide guidance on the processing of their loan
- Works with dedicated Loan Processor to ensure optimum customer service and loan quality
- Communicates to borrowers and/or their agents regarding loan approval, suspense or denial
- Excellent marketing skills a plus
- Market to realtors, builders, referral partners
- TXSML License REQUIRED
- Excellent communication skills required
- Current source of referrals would be great
- Ability to work with minimal supervision (Self Motivated A Must)
- Be dependable, friendly and professional required

What We Offer:
- Consistent turn times for Underwriting and Processing
- Ongoing training to help increase your volume/income
- Direct Deposit Payroll
- LO website and on-line application
- Paperless origination
- We offer FHA, VA, USDA, Conventional programs
-In-House and Broker channels available
-Credit Scores Down To 500 (Wow, I know right!)
- Direct Lender with ability to Broker as needed
- Work from home, OK.

We would love to help you make more $$$ if you are an established LO. If you are looking to get into the mortgage business, we would love to help train you. Please respond with your resume and email to rfuentes@southwestfunding.com or fax your resume to 210-802-4366 today!
---
If you are new to the mortgage business and want to know where to get started, there are several steps to getting your Texas Loan Originator License. 
First, you will have to register for a login and password through the NMLS website https://www.statemortgageregistry.com/Public/Login.aspx and click Request an Account. 
Once you have done this you will have to chose where to take the required 23 hours of class time or the 23-Hour SAFE Comprehensive Course and pass the National Exam. This includes completing the required 20-Hour SAFE course and 2-Hour TX-SML SAFE: Texas Law and Practice before you are able to take the National Exam. There are several online and physical locations you can take the required course. Here are two options that several of our team have used to completed the required course work.
**Champions School of Real Estate https://www.championsschool.com/ which offers several ways to complete the required courses. 
**Allied Real Estate Schools, https://www.alliedschools.com/ which is all on-line.
Both of these options offer Exam PREP courses to help you prepare to take and pass the Exam after completed the required courses. You can also go on-line to CompuCram and pay for their test prep course to help you pass the test. https://www.compucram.com/exam-prep/mortgage-lending/safe-mlo-national.html 
Prior to scheduling to take your licensing Exam with Prometric it must be paid for through the NMLS. Once paid you will have up to 180 days to schedule your appointment and take the test. There is a 30 day waiting period for exam retakes. If after 2 attemps you do not pass the test, you will have to wait 6 months before being able to take the test again. You will have to pay for each test taken. 
Now that you have passed the exam you will have to submit an MU4 Form to the NMLS as well as complete a criminal background check, credit check and finger prints. After paying the fees associated with processing of your licens, credit report and background check the application is processed. Once complete your license goes into an Approved/Inactive status. It is at this point that a company can now sponsor your license and when approved will be able to start originating mortgage loans. 
Typical fees associated with getting licensed.
Course work: $408 - $719
Test Prep Services/Courses: $149 - $235
Cost of exam: $110 each time taken
Individual Licensing fee: $190 + NMLS processing fee
Criminal Background Check fee: $36.25
Credit Report Request fee: $15
***fees described above are subject to change. Please visit the sites associated with the taking these courses or registering for your TXSML license for any updates. 
---
Thank You!
Your request has been submitted.
---